Traktor is a simple experimental web browser tool that is available at https://traktor.servmask.com.
The Traktor Tool lets you view the contents of a .wpress file with a simple drag-and-drop. Go to servmask.com and click on the Traktor link in the website footer.
The link will take you to the Traktor page:
Drag and drop your file in to the grey area indicated.
While the file is loading, a progress bar will be shown.


After the file has been read, you will see a button that will allow you to start again and upload another file. Below this is a clickable folder icon – click on this to expand the file structure and view the contents of your backup: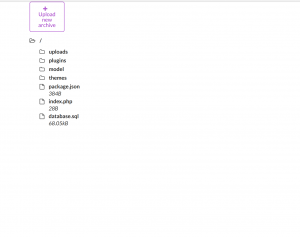 The list will contain the folder tree inside the backup and folder-icons are also clickable – so you are able to explore further:
Detecting a corrupted archive
Traktor is also a very effective tool to check if your backup has been corrupted. If the file will not load to show the file structure and contents, or if you get a result of %NaN then it is likely that your backup is corrupted.
If your file will not load and and you want to try with another file, just refresh the page and start page again.
More information: