Unlimited Extension extends the functionality of All-in-One WP Migration plugin, allowing you to import backups larger than 512 MB. The tool can be used in combination with any other All-in-One WP Migration plugin extensions to facilitate importing your websites/network of sites directly from your cloud/storage.
The tool functions as an extension to the plugin, so the All-in-One WP Migration plugin is required to be installed for it to work.
For more details about installing the Unlimited Extension, you can visit: https://help.servmask.com/knowledgebase/install-instructions-for-unlimited-extension/
This tutorial contains details of:
Import using Unlimited Extension
1. Import Using Unlimited Extension
The import process is initiated from the Import option in the All-in-One WP Migration plugin menu: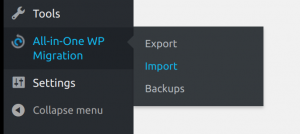 Selecting this option opens a new window where you can choose where to import a backup from using the dropdown menu: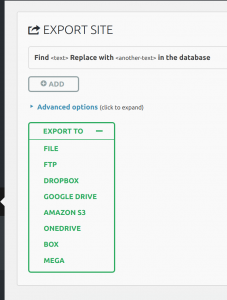 You will then be redirected to the cloud storage or to the specific file – depending on the option that you have chosen. The import process will start in a regular way, but you will be able to import a backup larger than 500 MB, in the same manner, you would import a smaller one.
Choosing the backup for import will start the process:
The import has an additional step which warns you that your website will be overwritten by the new backup including database, media, plugins and themes. This is the last opportunity to cancel the process. After pressing 'Proceed' you cannot stop the import process.
When finished, a successful import will display this message: