The Unlimited Extension adds to the functionality of the All-in-One WP Migration plugin by allowing you to import backups larger than 512 MB. The tool can be used in conjunction with any other All-in-One WP Migration plugin extensions to facilitate the direct import of your websites/network of sites from your cloud/storage.
The tool is a plugin extension, so you must install the All-in-One WP Migration plugin for it to function.
For more information on installing the Unlimited Extension, go to: https://help.servmask.com/knowledgebase/install-instructions-for-unlimited-extension/
This tutorial contains details of:
Import using Unlimited Extension
1. Import Using Unlimited Extension
You start the import procedure by selecting the Import option from the All-in-One WP Migration plugin menu: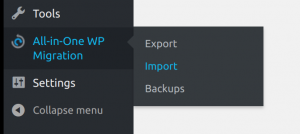 Selecting this option opens a new window where you can select a backup source: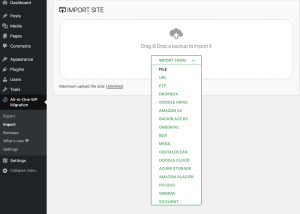 Depending on the option you select, you will then redirect to the cloud storage or to the specific file. The import process will begin normally, but you will be able to import a backup larger than 500 MB in the same way that you would a smaller backup.
When you select a backup to import, the following steps occur: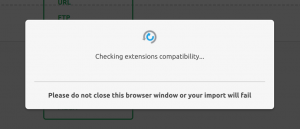 The import process includes an additional step that warns you that the new backup will overwrite your website's database, media, plugins, and themes. This is your last chance to cancel the process. After clicking "Proceed," you will not be able to stop the import process.
When finished, a successful import will show the following message: