Export and import
If you are new to All-in-One WP Migration, you may want to check out our video tutorial for more details about how to export/import using All-in-One WP Migration to complete your WordPress migration.
Migrating to a new server
If you are migrating a site, this longer video goes through more of the details of how to migrate your site with no downtime:
Logging in
Once you have migrated your site you will need to log in with the username and password of the site that you imported. The users and passwords from the old site have been migrated to the new site so you need to use these credentials.
How to use Find/Replace
You only need to fill in Find/Replace if you want to replace values in the database.
It is optional functionality for advanced users and is not necessary for a backup or migration.
Advanced Options
Advanced options allow you to exclude certain things from the export file and migration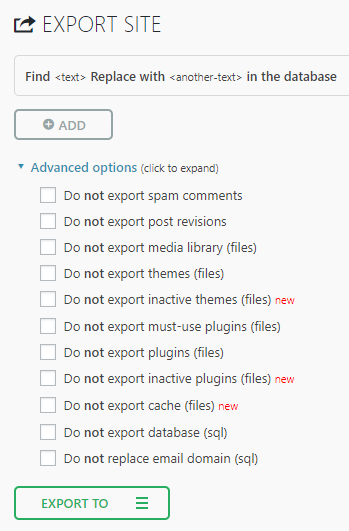 These things should not impact the success of your migration
– Do not export spam comments
– Do not export post revisions
– Do not export inactive themes*
– Do not export inactive plugins*
– Do not export Cache*
*Available with premium extensions only. Not found on the free community version
Use only if you need to. They will lead to an incomplete migration
– Do not export media library (this is good to use if you want to troubleshoot the backup but you will have no images etc. in the export)
– Do not export themes (use to troubleshoot if your theme is preventing a backup or restore)
– Do not export must-use plugins (use if you are having issues or moving hosting)
– Do not export plugins (use to troubleshoot issues or exclude all plugins)
– Do not export database (this will mean that your site will not have posts, pages, media or content – use for troubleshooting only)
Do not replace email domain
– If you use an email on your site that is related to your site URL (e.g mysite.com and your email is myname@mysite.com) and you DO NOT want that email to be changed, you can use this option. If you use your domain email to log in, this will remain unchanged after import
Find <text> Replace with <another-text> in the database
There is no need to use this option in the course of a normal migration. The plugin will take care of renaming the elements of the site to the URL that you import to. This is an advanced feature that should be used with care by people that understand the construct of the WordPress database.
If you aren't sure, then just don't use it.